Exclusive to GSC plan sponsors covering BEACON digital therapy within their existing mental health/counselling services coverage. These communication tools are designed to make it easy for you to promote BEACON as a benefit across your organization to plan members. All tools are provided in both English and French.

NEW!

BEACON now provides therapy for Managing Stress and Chronic Pain

BEACON now includes therapy for Managing Stress, specifically designed to help you confidently find balance and face future demands with strength.

Download additional communication tools such as posters, digital banners, and text descriptions: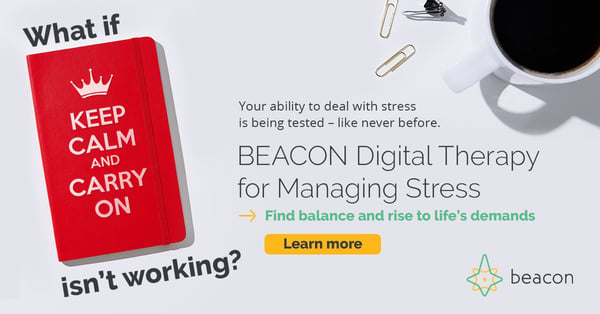 Looking to promote all the capabilities BEACON offers across your organization?
Download the full Communication Success Toolkit, which includes the following: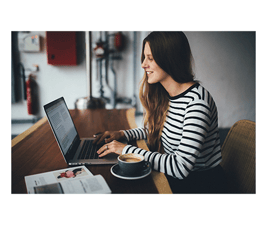 Text Descriptions
These text descriptions are easy to copy and paste, and adjust as needed. Available in teaser, short and long article lengths to suit your communication purpose.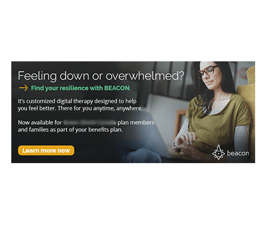 Digital Banners (700x300)
For websites (such as employee intranet or wellness portal), email communications, social media, TV displays, and screensavers. Multiple image versions included.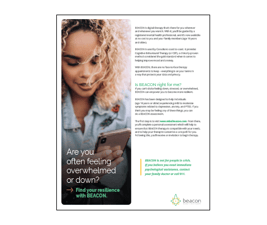 Q&A Info Sheet
Provides plan members with key information about BEACON, CBT, and how to access GSC plan member preferred pricing.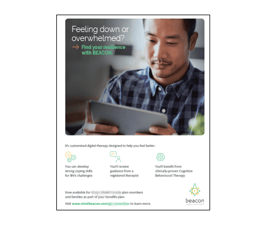 Posters (8x11")
For display in high-traffic areas such as meeting rooms, cafeteria/kitchen, coffee/water stations, and bulletin boards. Multiple image versions included.
Videos
For display on webpages (such as employee intranet or wellness portal), sharing on social media and email, looped on television displays or shown in live presentations. YouTube links are included in the toolkit.

Want a fuller communications program?

To support effective communication about BEACON digital therapy and mental wellness topics, we also offer monthly articles you can share with employees, sourced from BEACON clinicians with advice for working adults on protecting and improving mental wellness.

Sample topics:
· How to be social media healthy
· Stressful times headed your way? How to prepare so you stay mentally healthy
· Setback at work? Here's how to get over it