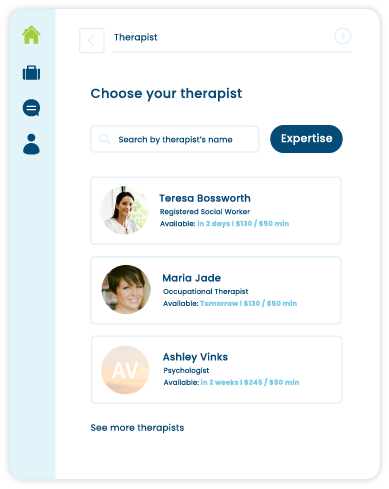 Choose Your Therapist
Search directly for a MindBeacon therapist based on your concerns, province and language preferences.
Looking for help in a specific area, or from a therapist who has experience with your particular concerns?
MindBeacon has a staff of more than 100 trained and registered therapists who can help address your needs.
The therapy program we offer may include psychotherapy services. Our therapists are mental health professionals who are properly trained and licensed to provide these services. They meet the professional and legal requirements specific to the jurisdiction of the province in which they operate.
Or, if you prefer, we can match you to a therapist we think will serve you best.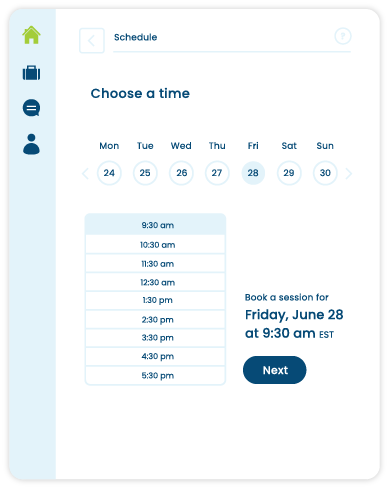 Book Your Session
Pick a date and time that works for you and tell us whether you'd like to connect by video or phone.
Use the simple MindBeacon interface to see your therapist's availability, and then choose a time and date that works for you.
You can also track your previous sessions, change future bookings – or select a new therapist.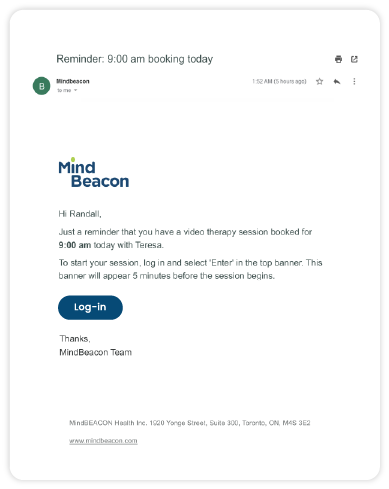 Connect and Rebook
On the day of your session, you'll get an email reminder. Simply log in and begin! You can also easily book follow-up sessions with your therapist.
The MindBeacon Live Therapy interface is easy and intuitive. Simply follow the link in the reminder email or log in on the site a few minutes before your scheduled time.
Once you're finished, booking a follow-up is easy. You can also track previous sessions, change future bookings – or select a new therapist.
Pricing
Live Therapy Sessions start at $130 for a 50 minute session, and are covered by most benefits plans in Canada.
What people are saying about MindBeacon
*Due to confidentiality we don't share MindBeacon User identities
What questions do you have?
Your first session is a chance to ask whatever questions you might have about therapy, or anything else that's on your mind. So, maybe spend a bit of time preparing so you can make the most of your time.

During this first session, your therapist will try to get to the heart of why you've chosen to seek help, and will ask about the challenges you're facing. If your therapist believes that the services we offer are a good fit, they'll discuss a potential treatment plan. (A second interview may also be necessary to properly determine the next steps for you.)
All session are booked as 60 minutes, which includes 50 minutes of face-to-face treatment and 10 minutes for clinical documentation.
Spend a little time looking through the therapist profiles before you book. Although all our therapists are registered professionals, they each have their own specialties. They will all be able to help, but feel free to pick someone you think you'll be most comfortable with.
You will be offered a number of options that are a good match based on your needs.
You should be able to talk to someone soon!
You can log on now to see who may be a good fit for you and is available to connect. You can book as early as the next day!
There's really no magic number of sessions when it comes to the improvement of symptoms – everyone is a little different. But CBT is designed to be time-limited, usually between six and 20 weekly sessions. It really comes down to your individual needs, and the complexity and severity of the issues you're facing.

After your initial assessment, your therapist will have a better understanding of your needs and how long treatment should take. That can change as you progress, so feel free to discuss it with them anytime you like.
Everyone has a personal preference when it comes to therapy.
When choosing between Live Therapy and a Therapist Guided Program consider how comfortable you might be discussing your concerns face-to-face, or how much flexibility you have in your schedule.
If you prefer to work on your own time, wherever and whenever it's convenient, a Therapist Guided Program might be the best. Your therapist will be available to you via direct messages, but you'll have no set appointments to keep.
If you like the guarantee of an appointment in your calendar, then Live Therapy might be better. Live Therapy is also great if want to talk to someone and have a face-to-face connection, even though you're remote.