The building blocks to creating a

transformational

workplace mental health program.
On February 4th, HR leaders from across Canada came together to talk about Workplace Mental Health
The recorded webcast is now available.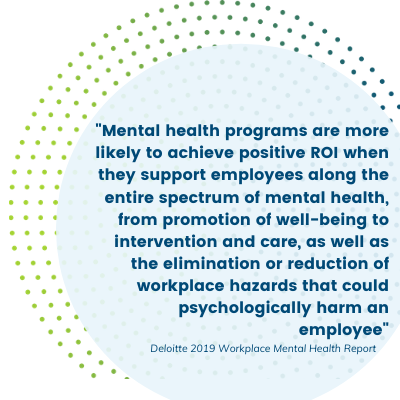 "The pandemic is the greatest mental health assault on the population ever recorded in humanity. One of the biggest detriments to productivity in the workplace this year is going to be struggles in mental health."*

Between government programs, benefits plans and EAPs, many employers think they have things covered – yet there still is a massive gap between what's being provided, and what's being used.

And even if employees manage to navigate and find support, how do you know what's actually working and making a difference?
Listen to executives from some of the leading organizations in Canada as they share their experiences creating their own Workplace Mental Health program. They'll share their challenges and triumphs and help you to skip over their mistakes and smoothly implement their best practices.
Register to view the webcast:
Celine Boffo, Vice President, Human Resources, Personal & Commercial Banking at RBC

Celine Boffo has built her career on a foundation of business transformation, people strategies and organizational effectiveness. As the HR Vice President for Canadian Sales at the Royal Bank of Canada, she leads the HR team supporting the 25,000 advisors and leaders serving clients across RBC's country-wide personal and commercial distribution network.

Before starting her professional life with CGI, a Canadian IT services firm with global operations, she earned her Ph.D. in Management from HEC Montreal. At CGI, Celine headed up the organizational change management center of expertise and consulted on organizational design, development and change across industries. She then led enterprise-wide change management and governance programs at Rogers Communications before returning to independent consulting.

Peter Neufeld, VP of Leadership at Maple Leaf Foods

Peter Neufeld has built a career around helping people and organizations reach their goals. He has translated his experience as a therapist into an exciting career in HR. Having worked in consulting and global organizations, he has led talent and organization development work globally, and has worked as an HR business partner supporting presidents of global businesses.

Peter has an MA in Counselling Psychology and an MBA. He has worked in consulting, financial services, and manufacturing, and is currently at Maple Leaf Foods as their VP of Leadership.

Brett Seifred, Partner at Davies Ward Phillips & Vineberg LLP

Brett is a partner in the Mergers & Acquisitions, Corporate and Capital Markets & Securities practices at Davies. He acts for clients in a broad range of transactions, including the sale and acquisition of public and private companies, public offerings of debt and equity, private placements, going-private transactions and corporate reorganizations.

Brett advises public companies on Canadian securities regulation and corporate governance matters on an ongoing basis. He works with clients across a variety of industries, including telecommunications and media, manufacturing, energy, mining and private equity.

Andrea Malloni, HR Manager at NVIDIA

In her 25 year career in HR leadership, Andrea has worked in tech around the world. Her expertise includes HR Strategy, Programs, Benefits, Communications, Employee Relations, and Organizational Leadership and Development.

Andrea's experience includes roles with video game technology and entertainment leaders including Vivendi, Ubisoft, Activision, and NVIDIA. She is HR certified through SHRM and Duke University. Her writing on employment and HR matters includes articles with The National Post, The Globe & Mail, The Spectator and others.