Generalized Pustular Psoriasis can take its toll on your mental health
Having a skin condition like Generalized Pustular Psoriasis can affect you beyond the physical appearance of your skin.
Boehringer Ingelheim is working with MindBeacon to support you.
People with psoriasis are:
39%
more likely to be diagnosed with depression
31%
more likely to receive an anxiety diagnosis
63%
also say it significantly affects their emotional health
Boehringer Ingelheim is committed to improving the lives of people living with Generalized Pustular Psoriasis. This is why they are working with MindBeacon to help people suffering from this rare, but serious condition gain access to professional counselling. This program can address the social, emotional and psychological impacts that may be associated with your experience of living with Generalized Pustular Psoriasis.
Experience therapy that's completely digital
No worry about appointments to keep
Available whenever and wherever you are
On any web-enabled device you prefer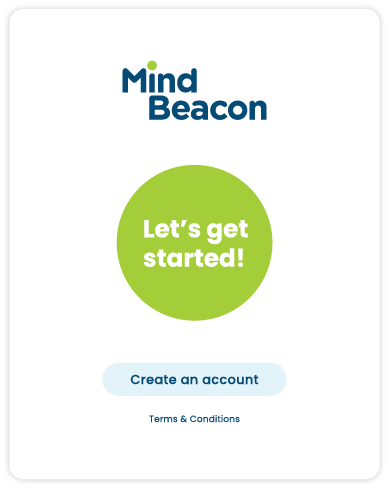 Create an account and get started right away.
Tell us about yourself, your feelings and your situation, so that your therapist can understand you better.
After you create and verify your secure account, you'll start your first session – a full MindBeacon Assessment.
We've re-created what in some cases can be a 60- to-90-minute in-person interview, in an online assessment that takes about 30 minutes and can be completed on your own time, anywhere.
We suggest setting aside a time in which you won't be interrupted to complete this important first step in your journey.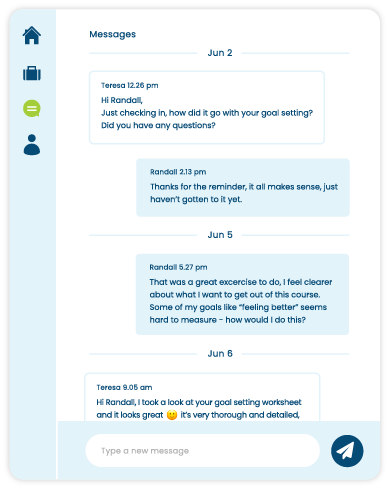 A therapist creates a plan designed just for you.
Through secure direct messages, readings and activities, your therapist will help you develop the skills you need to thrive.
A therapist will take the time to personally review your assessment. (This can take 3 to 5 business days, depending on volumes.*)
If our program is a good fit for your unique needs, you will be matched with the therapist best suited to create your personalized treatment plan.
If our program is not appropriate, they will suggest other resources for you to contact.
*Due to increased demand at this time, we are experiencing slightly longer wait times than usual.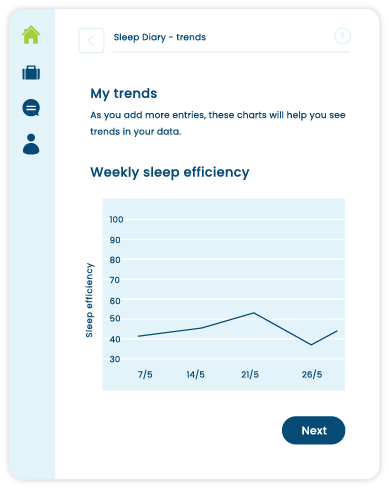 Complete your personalized program in 6 to 12 weeks.
Work one-on-one with your dedicated therapist for up to 12 weeks and access your resources for up to 1 year.
Our program offers 12 weeks of guided treatment with a therapist. Most people complete their course of treatment in 6 to 10 weeks.
Your therapist will respond to your messages and check in with you every few days.
Once you reach 12 weeks of treatment, you will still be able to access your materials (readings, worksheets and more) for an additional 40 weeks.
What's a Guided CBT Program?
Our Guided CBT Programs help you develop resiliency and coping skills to better manage your mental health.

Your dedicated therapist provides you with a customized 12-week program that includes readings, exercises, and activities to help you learn and practice those new skills. And you can message with your therapist throughout the program through the secure MindBeacon platform.
MindBeacon's Guided Programs are designed for adults 16+, and can help with many mental health concerns.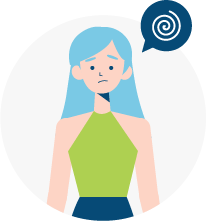 Your Mental & Behavioural Health
Evidence-based psychotherapy with MindBeacon, including Cognitive Behavioural Therapy, can help with mild to severe problems tied to a diverse range of concerns.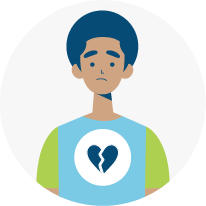 Challenging Life Events
Cognitive Behavioural Therapy techniques are well suited to help people understand problems in relationships or deal with complex emotions associated with other challenging life events.
Relationship Difficulties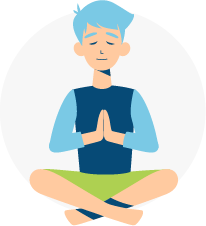 Your Mind-Body Connection
Our emotional wellbeing can have a strong effect on how we feel physically, intensifying existing physical issues and interfering with us living our best life. MindBeacon uses cognitive and behavioural techniques to successfully address these concerns.
If you have Generalized Pustular Psoriasis and would like to learn more, select the option that best describes you.
I'm a resident of Ontario
During COVID-19, MindBeacon's Guided CBT programs are available free to Ontario residents thanks to funding by the Ontario Government.
To access the free Ontario program you must use this button:
I have a health benefits plan
MindBeacon's Guided CBT Programs are covered by most benefits plans in Canada.
Even better, we've partnered with some providers to offer preferred rates.
I have GPP but none of the above apply to me
Neither of the above options apply to you AND you're living with Generalized Pustular Psoriasis? You can sign up free of charge here:
Don't have GPP?
If you don't have GPP but could use some support, MindBeacon is here for you.  
What people are saying about MindBeacon
*Due to confidentiality we don't share MindBeacon User identities
What questions do you have?
Yes, if you are a Canadian living with Generalized Pustular Psoriasis. Visit the "Ready to begin" section above
to sign up.
Why do we call it a 'program'? Good question.
Mainly because it has a start and end date. A typical MindBeacon Guided Program lasts about 8 to 12 weeks - so you know what you're committing to.
During the entire 12 week program, you will have one-on-one access to a licensed therapist, but instead of making appointments to talk to them, you'll be sending them direct messages through the secure platform, and they'll get back to you in a few days.
We also use the term program because your therapist will guide you through readings and activities that you complete on your own. Think about them as your own personal curator of mental health resources, finding the ones best suited to your needs.
Our Guided CBT Programs are proven effective for treating a range of conditions; however, it's not meant for everyone. In some cases, after completing your assessment, the therapist may determine that you are not a good fit for our Guided CBT Programs
Our Guided CBT Programs are recommended for the following conditions:
Social anxiety
Panic
Stress management
Generalized or Health anxiety
Adjustment problems
Depression
Insomnia
Chronic Pain
Post-traumatic stress disorder
We do not currently recommend our Guided Programs for the following, however:
Alcohol or substance abuse that interferes with daily activities

Eating

issues that affect your physical wellbeing
Relationship issues that require couples support
Issues tied to bipolar concerns
OCD concerns
Serious thoughts of suicide or self-harm.
MindBeacon Guided CBT Programs are available to all Canadians, age 16 years or older. MindBeacon can help you tackle a wide range of issues, including depression, anxiety, panic, PTSD, stress and many other concerns that impact your wellbeing.
MindBeacon is not a crisis service. In partnership with Kids Help Phone, we provide real-time support in times of crisis and to clients of all ages. Get help immediately by text messaging by sending "MindBeacon" to 741741.
If it is an emergency, please dial 911 or go to the nearest hospital emergency room.