Mental health therapy, your way
MindBeacon. Therapy what works for you.
MindBeacon therapy is all about you. For those of you with busy schedules or who prefer messaging over talking, our Therapist Guided Program is perfect for you. If talking face-to-face is more your thing, try our Live Therapy Sessions where you can meet with a licensed therapist, matched to you, from the comfort of your home.
Choose the therapy that's right for you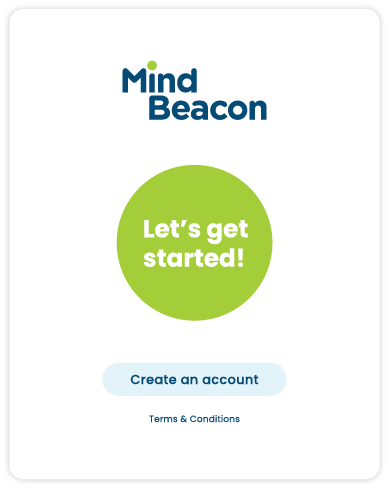 Create an account and get started right away.
Tell us about yourself, your feelings and your situation, so that your therapist can understand you better.
After you create and verify your secure account, you'll start your first session – a full MindBeacon Assessment.
We've re-created what in some cases can be a 60- to-90-minute in-person interview, in an online assessment that takes about 30 minutes and can be completed on your own time, anywhere.
We suggest setting aside a time in which you won't be interrupted to complete this important first step in your journey.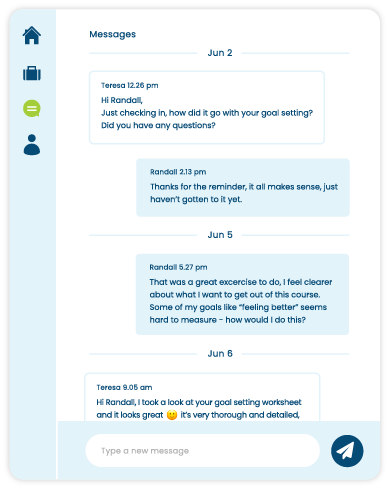 A therapist creates a plan designed just for you.
Through secure direct messages, readings and activities, your therapist will help you develop the skills you need to thrive.
A therapist will take the time to personally review your assessment. (This can take 3 to 5 business days, depending on volumes.*)
If our program is a good fit for your unique needs, you will be matched with the therapist best suited to create your personalized treatment plan.
If our program is not appropriate, they will suggest other resources for you to contact.
*Due to increased demand at this time, we are experiencing slightly longer wait times than usual.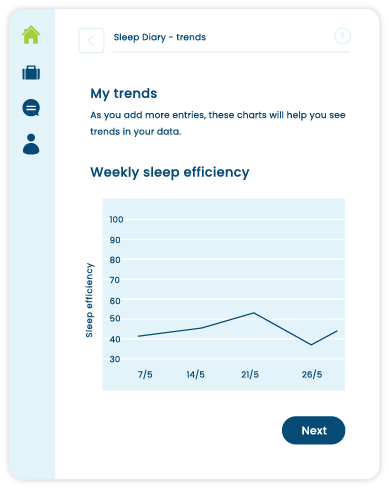 Complete your personalized program in 6 to 12 weeks.
Work one-on-one with your dedicated therapist for up to 12 weeks and access your resources for up to 1 year.
Our program offers 12 weeks of guided treatment with a therapist. Most people complete their course of treatment in 6 to 10 weeks.
Your therapist will respond to your messages and check in with you every few days.
Once you reach 12 weeks of treatment, you will still be able to access your materials (readings, worksheets and more) for an additional 40 weeks.
What's a Therapist Guided Program?
Our Therapist Guided Program helps you develop resiliency and coping skills to better manage your mental health.

Your dedicated therapist provides you with a customized 12-week program that includes readings, exercises, and activities to help you learn and practice those new skills. And you can message with your therapist throughout the program through the secure MindBeacon platform.
MindBeacon therapy can help with many mental health concerns.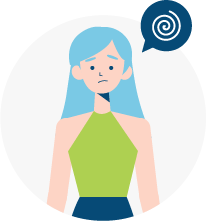 Your Mental & Behavioural Health
Evidence-based psychotherapy with MindBeacon, including Cognitive Behavioural Therapy, can help with mild to severe problems tied to a diverse range of concerns.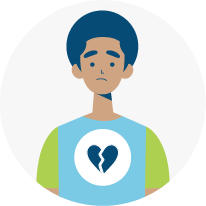 Challenging Life Events
Cognitive Behavioural Therapy techniques are well suited to help people understand problems in relationships or deal with complex emotions associated with other challenging life events.
Relationship Difficulties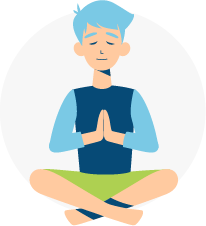 Your Mind-Body Connection
Our emotional wellbeing can have a strong effect on how we feel physically, intensifying existing physical issues and interfering with us living our best life. MindBeacon uses cognitive and behavioural techniques to successfully address these concerns.
Find the best payment option for you
Which best describes your situation?
My employer or health benefits provider offers MindBeacon's Therapist Guided Program at no cost >
That's great news!
Please check the communications you received from your employer or health benefits provider. You'll need to use the unique URL they sent you to access your free program.
I have a health benefits plan with a preferred rate >
MindBeacon's has partnered with these benefits providers to offer preferred rates.
Select your provider below.
I have a benefits plan that's not listed above >
MindBeacon's Therapist Guided Program is covered by most benefits plans in Canada.
Check your pricing options below – and learn more about how to claim these benefits through your provider.
What questions do you have?
If you choose, you can pay for your Therapist Guided Program in installments. Your payments break down as follows:
a $50 first payment for a review of your assessment results by a therapist
$150 for your first 2 weeks of access to therapy
$150 when you start the next 2 weeks
$150 final payment when you start the remainder of therapy (to a maximum of 12 weeks); also includes 12 months access (from therapy start date) to your MindBeacon history and resources
You can cancel treatment at any time and you will not be charged any future payments.
71% of MindBeacon clients see improvement within the first two weeks.
Our Therapist Guided Program is proven effective for treating a range of conditions; however, it's not meant for everyone. In some cases, after completing your assessment, the therapist may determine that you are not a good fit for the Therapist Guided Program.
Our Therapist Guided Program is recommended for the following conditions:
Social anxiety
Panic
Stress management
Generalized or Health anxiety
Adjustment problems
Depression
Insomnia
Chronic Pain
Post-traumatic stress disorder
We do not currently recommend our Therapist Guided Program for the following, however:
Alcohol or substance abuse that interferes with daily activities (like our Therapist Guided Program)

Eating

issues that affect your physical wellbeing
Relationship issues that require couples support
Issues tied to bipolar concerns
OCD concerns
Serious thoughts of suicide or self-harm.
Yes – you get your own licensed therapist for 12 weeks, who will be dedicated to you throughout your care, and who will tailor your program from start to finish.
And you can send them a message at any time - whenever you have a thought or an issue you'd like to discuss. There's no need to "save up" all your thoughts for a monthly or weekly session, or worry about forgetting about what it was you wanted to talk about.
Your therapist will get back to you within 2 business days.
MindBeacon's Therapist Guided Program is Cognitive Behavioural Therapy (CBT), a psychotherapy approach that helps you develop skills you need to change negative and anxious thinking, so you can feel and function better.
Numerous clinical studies have proven the effectiveness of CBT when it comes to helping people overcome a range of concerns related to mental well-being.
If, based on your assessment, MindBeacon is an appropriate treatment option for you, you'll be onboarded to treatment with a MindBeacon therapist. You'll have access to your therapist for up to 12 weeks, after which you will still be able to maintain access to your readings, worksheets and activities for an additional 40 weeks.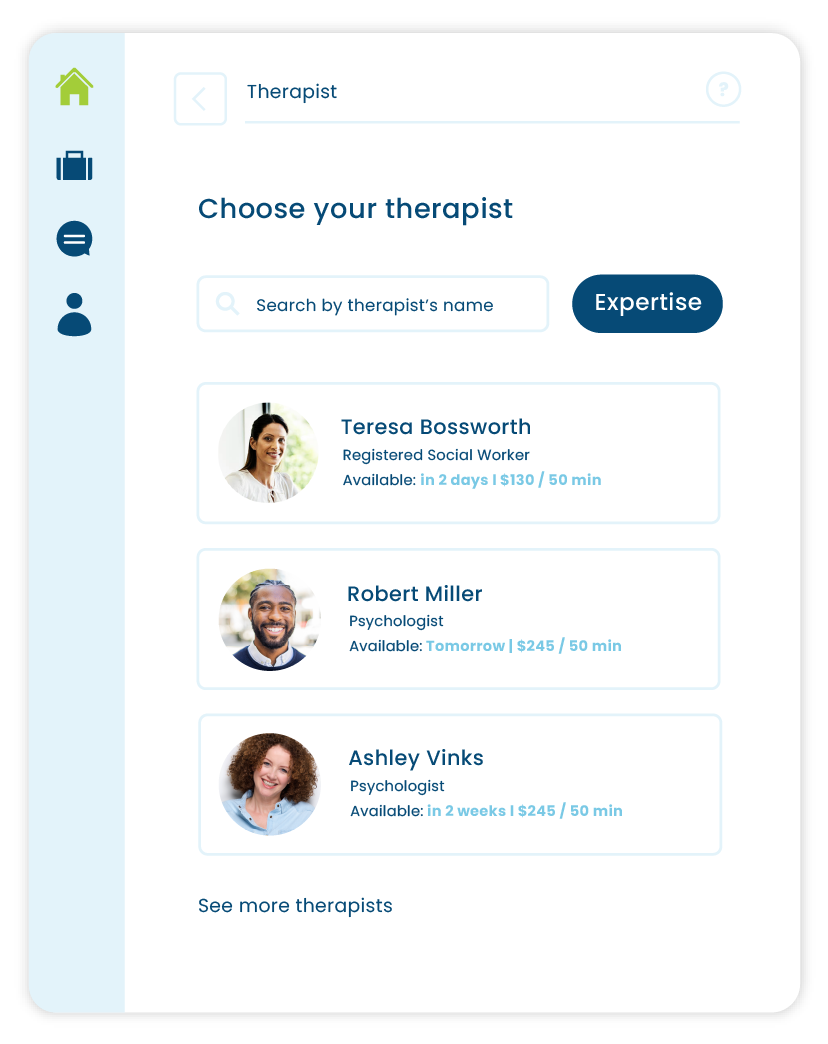 Choose Your Therapist
Search directly for a MindBeacon therapist based on your concerns, province and language preferences.
Looking for help in a specific area, or from a therapist who has experience with your particular concerns?
MindBeacon has a staff of more than 100 trained and registered therapists who can help address your needs.
Or, if you prefer, we can match you to a therapist we think will serve you best.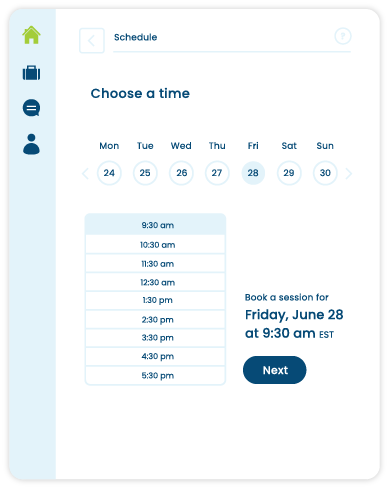 Book Your Session
Through secure direct messages, readings and activities, your therapist will help you develop the skills you need to thrive.
Use the simple MindBeacon interface to see your therapist's availability, and then choose a time and date that works for you.
You can also track your previous sessions, change future bookings – or select a new therapist.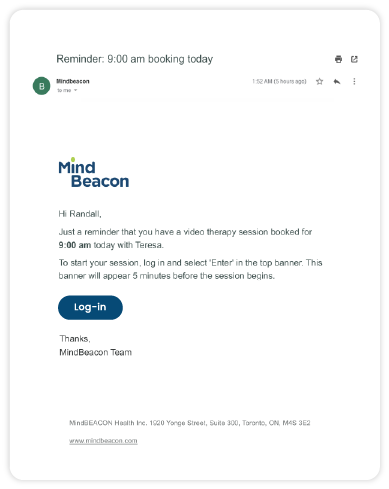 Connect and Rebook
Work one-on-one with your dedicated therapist for up to 12 weeks and access your resources for up to 1 year.
The MindBeacon Live Therapy interface is easy and intuitive. Simply follow the link in the reminder email or log in on the site a few minutes before your scheduled time.
Once you're finished, booking a follow-up is easy. You can also track previous sessions, change future bookings – or select a new therapist.
1-to-1 Therapist Relationship
What questions do you have?
Your first session is a chance to ask whatever questions you might have about therapy, or anything else that's on your mind. So, maybe spend a bit of time preparing so you can make the most of your time.

During this first session, your therapist will try to get to the heart of why you've chosen to seek help, and will ask about the challenges you're facing. If your therapist believes that the services we offer are a good fit, they'll discuss a potential treatment plan. (A second interview may also be necessary to properly determine the next steps for you.)
All session are booked as 60 minutes, which includes 50 minutes of face-to-face treatment and 10 minutes for clinical documentation.
Yes! Just like in-person therapy, our Live Therapy sessions are covered by most benefits plans.
Everyone has a personal preference when it comes to therapy.
When choosing between Live Therapy and a Therapist Guided Program consider how comfortable you might be discussing your concerns face-to-face, or how much flexibility you have in your schedule.
If you prefer to work on your own time, wherever and whenever it's convenient, a Therapist Guided Program might be the best. Your therapist will be available to you via direct messages, but you'll have no set appointments to keep.
If you like the guarantee of an appointment in your calendar, then Live Therapy might be better. Live Therapy is also great if want to talk to someone and have a face-to-face connection, even though you're remote.
Spend a little time looking through the therapist profiles before you book. Although all our therapists are registered professionals, they each have their own specialties. They will all be able to help, but feel free to pick someone you think you'll be most comfortable with.
You will be offered a number of options that are a good match based on your needs.
Please access Live Therapy Sessions using a desktop (Mac or PC) with the latest versions of Chrome, Firefox or Edge.
Live Therapy Session are not currently supported in the mobile app, but you can use the web browser on your smart phone for a session.
Once you've booked a live therapy session, your therapist will consider the appointment confirmed.
If for any reason you need to reschedule or cancel your booking, please make sure to do so at least 24 hours in advance. Our therapist's schedules can full up quickly, so we encourage you to reschedule as soon as possible.
MindBeacon treats protection of your personal information with the utmost importance. Our systems and processes comply with the highest standards of security to ensure your information is confidential and protected.
Our privacy practices are based on strict adherence and compliance with PHIPA and take into account PIPEDA, FIPPA and the health custodian regulations set out by regulatory colleges, including the College of Psychologists of Ontario. In addition, we have been certified compliant with HIPAA, the US standard governing protection of sensitive patient data.
Your session is not being recorded.