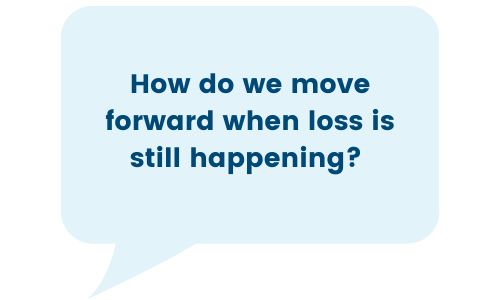 Feeling down or stuck is natural when we experience various forms of loss. When you think about all the loss we've experienced this year and when listening to all the stories around loss, we begin to grieve. Grief is the normal reaction to loss. But how do we move forward when we continue to lose moments, time and people in our lives? The first step is acceptance.
All of us are experiencing loss in one way or another right now, even if we don't recognize it as such. We've all experienced micro losses (lost experiences, missed events or the feeling of lost time) and some have experienced macro losses too (jobs or people dear to us) during the pandemic.
What is grief?
First, understanding the full nature of grief is key. Grief is the emotional response to loss but also has physical, cognitive, behavioural, social and cultural dimensions. Grief is commonly believed to include five different emotional experiences:
Denial

Anger

Bargaining

Depression

Acceptance
However, there is no right or wrong way to experience grief and we can remind ourselves of that in the process. Also, know that we can experience grief when we not only lose people but anything that's important to us – a job, a relationship, opportunities and more.
Here are some tips to manage your well-being when grieving:
Start by

accepting the grief

you're

experiencing

.


Identify what was lost to you to understand the complexities of grief without assuming that

you'll

'just get over it'.




Express it

.


Expressing your emotions

can

help you work

though

the pain

around your loss and give

you

the time to heal. Let others know

what

you're

experiencing

. That might

mean

reaching out to friends,

family

or colleagues

and

lean

ing

on those around you

(

even if

virtually

only

)

.




Make space to grieve.


Tryin

g to find time to grieve in your day

can be challenging.

Consider

set

ting

some time aside

to experience

your

grief and go through it as you please

,

in whichever way that works for you. This could mean writing

notes

to yourself

and expressing what you

are missing

or

writ

ing

letter

s

to a person you may have lost.

Also, e

ngage in rituals that help you grieve

.




Try something new

.
Sometimes

you'll

need to find the strength and courage to replace some of what was lost by doing something new like

starting a new hobby or finding

a new circle of friends

. It never hurts to set up meetings now so you can meet new people once the pandemic is over.
How do you help others through grief?
There's a tendency for us to want to "fix" things for those we care about. But it's just not realistic. As hard as it can be to experience it ourselves, sometimes it's even harder to see our loved ones go through it too.
For example, many teenagers have missed out on proms, graduations, sweet 16s, sports seasons, and so much more. We've all missed out on travel, backyard barbeques with friends and family, and so many other things we enjoy. After so much anticipation and preparation, it's unfortunate that we aren't getting to follow through on our plans, at least for now. That's a normal reaction.
The losses we are feeling are significant. They are what we call disenfranchised grief – a feeling of grief that's not generally acknowledged by society. An event like prom, for example, is something many teenagers have grown up imagining and looking forward to. When they don't get it – even if they know there's a good reason why – they feel a loss. They need time and space to grieve that loss.
So, while you can't do anything about the loss, you can still empathize that the associated feelings are real. You can validate these feelings and acknowledge that those losses are real. The same goes for you.
We can't always change the world, but we can be there for each other as we plan for the future.