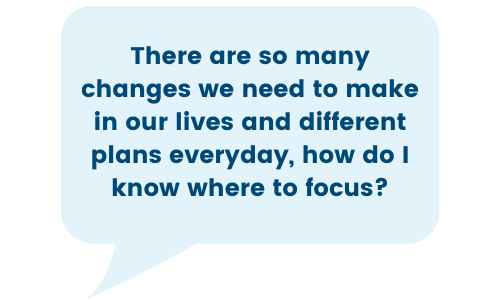 With so many different plans and changes we need to make in our lives, it can be difficult to know what to focus on in the short term and the long term. Consider the pandemic as an opportunity to re-discover who you are and what values are true to you. Re-visit your health, relationship, career and leisure values for a chance to re-connect with yourself and discover who you want to be after the pandemic ends.
Many of us are looking at the pandemic as an opportunity for change. In other words, as we start to consider what our lives will be like afterwards, we picture ourselves living more deeply and more meaningfully. We want to make up for that lost time and re-connect to all the people and things that mean the most to us.
If that's the case for you, then be sure to take a moment to consider your values. Our values reflect what's most important to us. They're unique to each individual and can change over time.
Values are like a roadmap or a compass. They guide us, give us direction and help us prioritize how we spend our time. They factor into our daily decisions, and every decision is an opportunity to live, moment by moment, according to our values. Consider:
Your health values
Think about your values in relation to your health and physical well-being:
What are your intentions with regard to diet, exercise, smoking, alcohol, as well as general self-care and well-being? If you were thinking about pursuing a healthier lifestyle, what would that look like in your life?
Your relationship values
Think about your behaviour in your relationships – whether that's with your spouse or partner, children, family members and friends.
In an ideal world, how do you choose to relate to the people in your life? How would you treat others if you were the "ideal you?" What personal qualities would you most want to express in the relationships that are important to you?
Your work and career values
Describe the type of employee or manager you most want to be.
What personal qualities or strengths do you show at work when you're at your best? What are your values around how to interact with your colleagues? What work values do you feel are most important?
Your leisure values
Consider the type of leisure time you'd most like to have, including hobbies, sports and other leisure activities.
What do you, or would you, most like to pursue for fun and fulfillment in your leisure time? Do you choose having fun, relaxing or engaging in creative activities and hobbies? What are the values you would most like to guide your actions during your leisure time?
When you think about making plans for what comes next, think about the things that are most important to you. When you start living according to your values, that's when you'll start to feel more satisfaction and contentment.